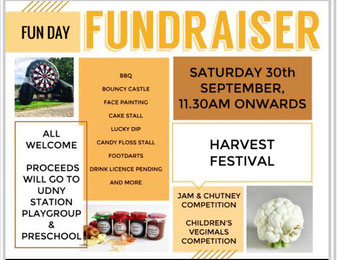 Everybody is settling in well at playgroup and we have lots of exciting things to look forward to!
Our harvest festival fun day and BBQ fundraiser is happening on Saturday 30th of September from 11.30am at the Udny Station village green with loads of fun and games so be sure to come along, everyone is welcome.
Following the huge success of our forest school sessions, we'll be spending a week in the woods at the end of the month with all sessions that week taking place in our forest school setting.... We can't wait to explore the woods in autumn
🍂
🍁
Show and tell this term will cover some really interesting and varied topics such as My Family/Ancestors, Harvest Festival, My favourite song, What I like to do with my family and loads more. The children love showing their friends what they've brought in each week and they gain confidence in speaking to a small group too.
Remember to check out our Facebook page for the latest photos and news from playgroup and we'd love to hear your thoughts or questions about what we do.