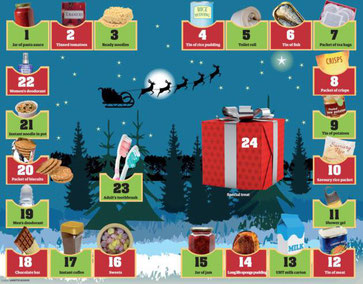 We all enjoyed the October break and our first week back was full of Halloween fun with the children and staff dressing up and playing games at our party.
This month we are collecting donations for the Christmas appeal at our local food bank and demonstrating our topic for this term- Thinking Of Others. 
This reverse advent calendar idea runs during November ready for the food parcels to be made up and delivered in December to those less fortunate this festive season.
With Christmas in mind, the children are working on some very special Christmas crafts and we also have our raffle tickets on sale now. £1 per ticket with all proceeds going to playgroup. There are some great prizes from Eat On The Green, Kids In The Kitchen, Skyline Trampoline Park Inverurie, The Coffee Apothecary and our incredible top prize ⭐️A luxury chalet stay in Aviemore⭐️ along with many other prizes too. Playgroup parents all have tickets for sale or feel free to email or pop us a message on our Facebook page if you'd like to be in it to win it!